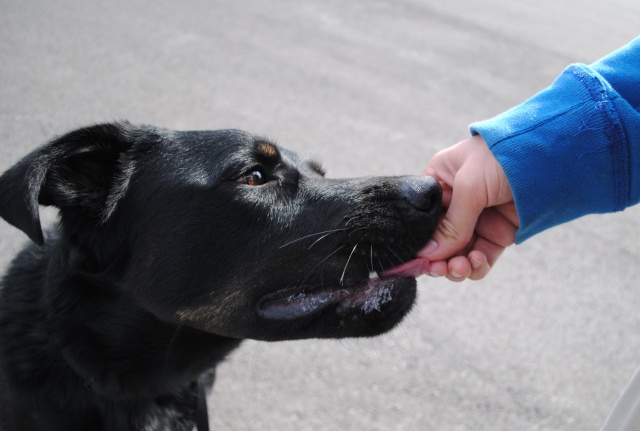 One of Angels for Veterans service dogs being trained to assist veterans with PTSD is ready to take the next step in his work.  Colt, our two year old black lab mix, has been in training for five months to prepare to be matched with a veteran in need. He is friendly, good-natured, intelligent, motivated, and excited to work.  He has completed his basic obedience and public access training and is now working on general service tasks which include but are not limited to pressing disability access buttons, alerting/interrupting anxiety, passively alerts to approaching individuals, etc.  Colt is ready and willing to meet candidates for adopting a PTSD/Anxiety service dog in hopes of providing them with the support they need.
The purpose of Angels for Veterans is to demonstrate deep gratitude and concern for all active duty and honorably discharged veterans of all branches of the United States military. Our Angel PAWS Dog Program provides Service and Companion Dogs free of charge to veterans with PTSD and other disabilities. Thus providing special needs accommodation to enhance quality of life. We strive to provide items of clothing and other supplies to help relieve homelessness; and provide physical, emotional support, and advocacy to all of our veterans. Angels for veterans will diligently strive to provide loving support for all honorably discharged veterans, active duty, and homeless veterans. We appreciate your donations. You may donate through PayPal on this site or you may mail your donations to Angels for Veterans P.O. Box 611, Celina, Ohio 45822
This is our new and exciting program. Our rescue dogs are ready to help change the lives of veterans who are suffering from PTSD and Physical Disabilities
 We need your generosity so that we can fulfill our goal of providing highly trained dogs to veterans who suffer from the effects of military conflict.  Our Angel PAWS, Service and Companion Dogs, make a significant difference in the lives of veterans who have given so much to us.
Our dogs are all rescue dogs given a second chance. Oue  Angel Paws are waiting to be matched up with  special veterans in need. Please help by donating right now and let the healing begin.
Donations can be made through our PayPal account.
We are also seeking those who will be sponsors of our dogs.  To be a sponsor pleases email This email address is being protected from spambots. You need JavaScript enabled to view it.  We will provide the information that you will need.  
Sandra L. Bohle/Founder/Director 
Thank you all for your generous donations.